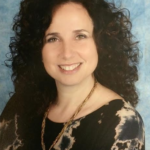 Summer time, and the living was easy….here at North Shore Synagogue Nursery School. Many of you may not know that we have a fantastic summer program for the children entering our 2's and 3's programs. This past summer, almost 40 children spent their days with friends, playing in sprinklers, enjoying the sunshine (with plenty of sunscreen, of course,) blowing bubbles, making chalk drawings, exploring our gym and playground, and so much more. Attending a summer program before entering our 2's classes helps with the transition to school in September. In seven weeks' time, the children developed confidence and trust in our amazing staff members and learned the lay of the land here in our school.
Each week, our children and staff explored different themes. "Rainbow Week" had the children eating a special rainbow snack, and wearing their favorite color clothing. We were patriotic when we had "Red, White and Blue" week, and decorated stars and flags for our country's birthday. Next up was "On the Go" week, with a focus on transportation art projects and racing. We loved making our own aquariums with colorful fish during "Under the Sea" week, followed by "Ooey Gooey Week," where the children played with shaving cream (the cleanest mess you'll ever see!) "Animal Week" was so exciting! Some of the children made animal shaped cookies and Steppin' Out Ponies came with animals for the children to feed, and a pony to ride. We saw chickens, goats, sheep, and a rabbit. During their stay, a hen laid a fresh egg! "Fun Favorites" rounded out the summer with watermelon day, an ice cream and pizza party, along with other fun activities.
The start of school is always a fun and exciting time. Our families will meet our staff members for orientation on September 4th, and school begins on September 9th. We look forward to having the time this year to delve deeply into Rosh Hashanah, Yom Kippur, Sukkot and Simchat Torah, as the holidays arrive a little later this year. Our children will dip apples in honey, make foods associated with the holiday, and learn about our culture as Jews and how to incorporate Jewish values in their lives.
We can't wait to celebrate Shabbat on Fridays with Rabbi Jaimee Shalhevet and Cantor Mariel Ashkenazy. Cantor Mariel will also lead the children in their weekly music experiences, and we are so excited to hear her lovely voice, and move and groove to her guitar playing. All in all, we are thrilled to start a new year, with new faces, new experiences, along with familiar routines and exciting events planned for the year.
Along with the happy events, our school community mourns the loss of Lisa Stewart, a beautiful person, inside and out. She worked as an assistant teacher for many years and enriched the lives of our children. Our school community has purchased a butterfly for our Nursery School wall, and a donation was made to the Ronan Thompson Foundation, a charity that supports childhood cancer research. If you would like to make a donation in memory of Lisa, please go to the following website: www.ronanfoundation.org. May her memory be for a blessing and may Hal, Danielle, Kimberly and Michael find comfort in their memories of Lisa.