Members: You should have received links for Rosh Hashanah virtual services on Friday, 9/18. If you did not, check your spam or email office@northshoresynagogue.org.

Non-members:  Unfortunately, we can not accomodate non-members on-site this year, but you are invited to watch online our Second Day Rosh Hashanah Service at 10:00 AM on Sunday, 9/20, and on Yom Kippur, join us for Yizkor at 3:00 PM and Neilah/Concluding services at 3:45 PM.  In addition, we'd love to have you watch our Family Services at 1:00 PM on the first day of Rosh Hashanah, Saturday 9/19, and on Yom Kippur on Sunday, 9/28. Tot Services for both Rosh Hashanah and Yom Kippur are pre-recorded so you can watch at your (and your child's!) convenience.   Get more info and all the links here>>

High Holy Day registration information has been mailed to all members in good standing. Registration is required whether you plan to attend in person or virtually. Please complete your registration as soon as possible so we can plan accordingly. If you have not received your High Holy Day information kindly contact the synagogue office at 516.921.2282 x100.

Additional registration may be purchased for immediate family members at $154 per person (parent, sibling, grandparent, spouse, child, grandchild, son-in-law, daughter-in-law). Download the order form here.

There are families on Long Island that desperately need our help. We are having an outdoor, no contact food collection on Sunday, September 20 from 9 AM-2 PM and all day on Sunday, September 27 in our parking lot. You can make a difference! Please drop off your non-perishable food items (kindly check expiration dates on all items.)

This is a joint effort of all of the arms of NSS in conjunction with TANS (Tikkun Alliance of the North Shore.

Want to participate but unable to drop off food? Consider making a donation to the Mitzvah and Caring Fund. Click here to donate. Patrice Grossman and Ilene Zelniker, program Co-Chairs thank you.
North Shore Synagogue Welcomes You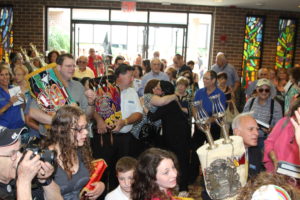 North Shore Synagogue is a vibrant Reform congregation of nearly 700 families offering a diversity of spiritual, educational, family, mitzvah and social opportunities for its members and the community.
The mission of North Shore Synagogue is to join with our members in building a community where the practice of Reform Judaism enriches and uplifts our lives with understanding, warmth, friendship and meaning.  Read our complete Mission and Vision Statement here.
Though our members are drawn to our Synagogue for various reasons – spiritual, social, educational and charitable – we seek to forge a common bond of commitment to Jewish heritage, tradition and people even as we affirm the freedom to express these shared values in creative and individualistic ways.
Our hope is that you and your family will find a Jewish home at North Shore, where you can develop the tools of Jewish living, the comfort of a community and a sense of connection that will last a lifetime and for generations to come. We feel strongly that membership in a synagogue, whether North Shore or another synagogue, creates a bond that you'll only find in a congregational community.
We serve communities across Nassau and Suffolk County, including Syosset, Woodbury, Old Bethpage, Plainview, Jericho, Oyster Bay, Muttontown, Brookville, East Norwich, Hicksville, Farmingdale, Melville, Glen Head, Cold Spring Harbor, Laurel Hollow and many others on Long Island.