North Shore Synagogue is here for you during these difficult times.

If you need help, please call us at 516-921-2282 or email us at caring@northshoresynagogue.org for information including:

Pick up and delivery of groceries and prescriptions for high-risk individuals
Setting up time for counseling with our clergy
Volunteering to shop for people who need assistance
How does this zoom stuff work anyway??

Every Friday at 7:30PM, watch a streaming Shabbat service at northshoresynagogue.org/stream-shabbat-evening. If you would like for a name to be read for a yahrzeit or during the mishberich, the prayer for healing, email caring@northshoresynagogue.org by Thursday at 8PM.

Every Saturday morning, join Cantor Ashkenazy for Torah Study at 9:00AM (no Hebrew or prior knowledge needed) (northshoresynagogue.org/stream-torah-study) and/or for a Shabbat morning "service-in-the-round" at 10:30AM (northshoresynagogue.org/stream-Shabbat-morning).

Join the clergy for virtual coffee on Tuesdays at 10:30AM to check-in and chat at northshoresynagogue.org/coffee-with-the-clergy

Upcoming Events:

Family Bingo – Sunday, April 5 at 4:30PM – Click Here>>

Passover Festival Service – Thursday, April 10 at 10:30 AM – Click Here>>

Make Your Own Matzah – Monday, April 13 at 3:00 PM – Click Here>> 

Judaism says that we must take any measure we can in order to avoid endangering a person's health or safety– pikuach nefesh. As the situation regarding the coronavirus continues to evolve, we at North Shore Synagogue are committed to adhering to this Jewish law, by protecting the well-being of our congregants, families, and staff, while still providing quality programming and services to our community.

The synagogue building will now be closed through March 29th to all of our congregants, families and visitors. Please note that you will still be able to contact the main office by phone and email. The office can be reached at 516-921-2282 ext. 100 or office@northshoresynagogue.org. The clergy are available by phone and email, as well through FaceTime/zoom for pastoral care and appointments.

Religious School, Nursery School and J.tel are suspended through March 29th.  Parents will be contacted with information about available resources and learning opportunities. B'nei Mitzvah tutoring will be available by Facetime and video conference.

Friday night services will be available by live streaming at 7:30pm.  See the weekly Happenings email for a link.  If you would like a name read aloud for the mishberich prayer for healing or during kaddish for a loved one you are remembering, please email caring@northshoresynagogue.org by 12 noon on Friday.

Torah Study and Service-in-the-Round will be held via zoom on Saturday mornings. Rabbi Shalhevet's Wednesday classes will also be via zoom only. Please email office@northshoresynagogue.org for details.  

The following events/services have been canceled through March 29th: All Youth Group Events; Religious School Family Days; Family Bowling; all Tot Shabbat Services and Family Services. In addition, the following post March 29th events have been canceled; the Sisterhood Women's Seder and NSS Second Night Seder. Please refer to your committee chairs and the office with respect to the status of all committee meetings, including Brotherhood and Sisterhood.

Please know that should you need assistance in picking up groceries, prescriptions, etc, we have a Mitzvah and Caring Team that is here to assist you. Please email caring@northshoresyangogue.org if you are in need of assistance or willing to volunteer.

We want you to know that we are thinking about you during this difficult time and hoping that everyone stays healthy and safe.
North Shore Synagogue Welcomes You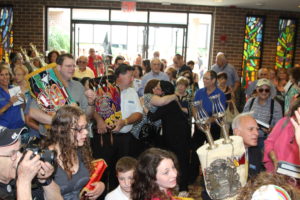 North Shore Synagogue is a vibrant Reform congregation of nearly 700 families offering a diversity of spiritual, educational, family, mitzvah and social opportunities for its members and the community.
The mission of North Shore Synagogue is to join with our members in building a community where the practice of Reform Judaism enriches and uplifts our lives with understanding, warmth, friendship and meaning.  Read our complete Mission and Vision Statement here.
Though our members are drawn to our Synagogue for various reasons – spiritual, social, educational and charitable – we seek to forge a common bond of commitment to Jewish heritage, tradition and people even as we affirm the freedom to express these shared values in creative and individualistic ways.
Our hope is that you and your family will find a Jewish home at North Shore, where you can develop the tools of Jewish living, the comfort of a community and a sense of connection that will last a lifetime and for generations to come. We feel strongly that membership in a synagogue, whether North Shore or another synagogue, creates a bond that you'll only find in a congregational community.
We serve communities across Nassau and Suffolk County, including Syosset, Woodbury, Old Bethpage, Plainview, Jericho, Oyster Bay, Muttontown, Brookville, East Norwich, Hicksville, Farmingdale, Melville, Glen Head, Cold Spring Harbor, Laurel Hollow and many others on Long Island.