As we return to normal, look for new opportunities to join us in person. 

Check our calendar for upcoming events and subscribe to our weekly events email.

Every Friday at 7:30PM, our Shabbat service is available by streaming or in-person attendance (no pre-registration required!). A link is sent via email each week. If you would like for a name to be read for a yahrzeit or during the mishberich, the prayer for healing, email caring@northshoresynagogue.org by Thursday at 8PM.

Every Saturday morning, we hold Torah Study by Zoom starting at 9:00AM (no Hebrew or prior knowledge needed) or join us for a Shabbat morning "service-in-the-round" at 10:30AM.

Each month, we have many opportunities to connect with our clergy and each other including interactive classes, and daytime or evening sessions for coffee with the clergy!

For the months of July & August, donations received for the Tzedakah of the Month will be going to support the not-for-profit "Supplies for Success." The Mitzvah/Caring Committee, in conjunction with Sisterhood, will be supporting a school supplies drive for the start of the upcoming school year for underserved children. As the Tzedakah boxes in the Synagogue are not accessible at this time, please send your donations to support this very important mitzvah made payable to North Shore Synagogue – Attention: Tzedakah of the Month.
North Shore Synagogue Welcomes You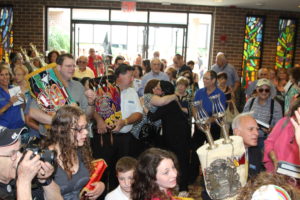 North Shore Synagogue is a vibrant Reform congregation of nearly 700 families offering a diversity of spiritual, educational, family, mitzvah and social opportunities for its members and the community.
The mission of North Shore Synagogue is to join with our members in building a community where the practice of Reform Judaism enriches and uplifts our lives with understanding, warmth, friendship and meaning.  Read our complete Mission and Vision Statement here.
Though our members are drawn to our Synagogue for various reasons – spiritual, social, educational and charitable – we seek to forge a common bond of commitment to Jewish heritage, tradition and people even as we affirm the freedom to express these shared values in creative and individualistic ways.
Our hope is that you and your family will find a Jewish home at North Shore, where you can develop the tools of Jewish living, the comfort of a community and a sense of connection that will last a lifetime and for generations to come. We feel strongly that membership in a synagogue, whether North Shore or another synagogue, creates a bond that you'll only find in a congregational community.
We serve communities across Nassau and Suffolk County, including Syosset, Woodbury, Old Bethpage, Plainview, Jericho, Oyster Bay, Muttontown, Brookville, East Norwich, Hicksville, Farmingdale, Melville, Glen Head, Cold Spring Harbor, Laurel Hollow and many others on Long Island.