As food insecurity continues as a major crisis on Long Island due to the pandemic and the increasing number of people unemployed, donations to the Tzedakah of the Month for January and February 2021 will be going to Island Harvest. Island Harvest was founded in 1992 and is a member of Feeding America, the nation's largest hunger relief organization. They distribute fresh produce, meat and non-perishables throughout Long Island and assist thousands of Long Islanders daily.

Long Island Cares has recently opened another local food bank in Bethpage in addition to its other four other satellite locations and 18 emergency pop-up food sites across Nassau and Suffolk counties to help feed the increasing number of Long Islanders struggling to keep food on their table during the coronavirus pandemic. Long Island Cares remains one of the largest non-profits dedicated to fighting food insecurity on Long Island.

Thanks to all of your generous food and financial donations during our Thanksgiving Food Drive, a large amount of food appropriate for the Thanksgiving holiday was collected and donated to Long Island Cares (Harry Chaplin Food Bank) located in Hauppauge.

North Shore Synagogue also donated Thanksgiving pies and breads to the INN (Interfaith Nutrition Network) located in Hempstead. These pies and breads had been ordered by our congregants and designated as "mitzvah pies and bread" in our Thanksgiving Baked Goods fundraiser.

The Mitzvah/Caring committee would like to thank all of our congregants who have so generously donated to the Mitzvah Fund throughout this pandemic. We have used and will continue to use your financial donations to purchase desperately needed food, toiletries and baby products and to deliver them to Island Harvest, Long Island Cares, the INN, our Tikkun Alliance of North Shore connections in Wyandanch, Baby Essentials of Long Island and other Long Island organizations providing support to those in need on Long Island.

Get Well Mugs ($20)
Make someone smile – purchase Get Well Mugs filled with a coupon for "Jewish Penicillin" (chicken soup) from Ben's Deli. Just call the office to have one shipped to a friend or family member who is under the weather.
North Shore Synagogue Welcomes You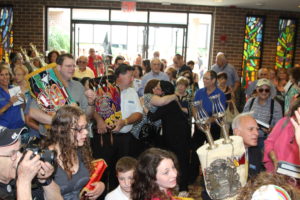 North Shore Synagogue is a vibrant Reform congregation of nearly 700 families offering a diversity of spiritual, educational, family, mitzvah and social opportunities for its members and the community.
The mission of North Shore Synagogue is to join with our members in building a community where the practice of Reform Judaism enriches and uplifts our lives with understanding, warmth, friendship and meaning.  Read our complete Mission and Vision Statement here.
Though our members are drawn to our Synagogue for various reasons – spiritual, social, educational and charitable – we seek to forge a common bond of commitment to Jewish heritage, tradition and people even as we affirm the freedom to express these shared values in creative and individualistic ways.
Our hope is that you and your family will find a Jewish home at North Shore, where you can develop the tools of Jewish living, the comfort of a community and a sense of connection that will last a lifetime and for generations to come. We feel strongly that membership in a synagogue, whether North Shore or another synagogue, creates a bond that you'll only find in a congregational community.
We serve communities across Nassau and Suffolk County, including Syosset, Woodbury, Old Bethpage, Plainview, Jericho, Oyster Bay, Muttontown, Brookville, East Norwich, Hicksville, Farmingdale, Melville, Glen Head, Cold Spring Harbor, Laurel Hollow and many others on Long Island.