Upcoming Events
Let's Light up the Night – Chanukah Dazzling Festival of Laser Light Show on December 18th at 4:30 PM. Bringing the Chanukah Story to Life for all Ages!

It all starts with a single beam of laser light. Just one dot. Move it fast enough, and it becomes a marvelous show. You've never seen a Laser show like this! With fog, the Chanukah story becomes a duel of light beams, replete with fantastic laser beam and lighting effects. The show culminates with a giant menorah lighting you'll never forget – each flame glowing with a different color, creating shadows in the fog over your congregation.

$10 per person includes this amazing breathtaking show, a voucher for dinner from our food truck and a voucher for dessert from our food truck.

Enjoy hot dogs, hamburgers, chicken fingers, veggie burgers, french fries, latkes, fried Oreos, zeppoles, churros, drinks, hot chocolate, coffee and more. INCLUDED WITH YOUR $10. And take part in our 50/50 raffle!

An event you won't want to miss!!!! Bring your family and friends for an AMAZING first night of Chanukah!
North Shore Synagogue Welcomes You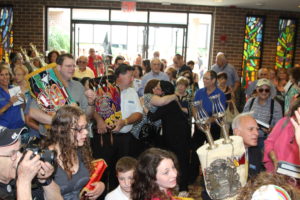 North Shore Synagogue is a vibrant Reform congregation of nearly 400 families offering a diversity of spiritual, educational, family, mitzvah and social opportunities for its members and the community.
The mission of North Shore Synagogue is to join with our members in building a community where the practice of Reform Judaism enriches and uplifts our lives with understanding, warmth, friendship and meaning.  Read our complete Mission and Vision Statement here.
Though our members are drawn to our Synagogue for various reasons – spiritual, social, educational and charitable – we seek to forge a common bond of commitment to Jewish heritage, tradition and people even as we affirm the freedom to express these shared values in creative and individualistic ways.
Our hope is that you and your family will find a Jewish home at North Shore, where you can develop the tools of Jewish living, the comfort of a community and a sense of connection that will last a lifetime and for generations to come. We feel strongly that membership in a synagogue, whether North Shore or another synagogue, creates a bond that you'll only find in a congregational community.
We serve communities across Nassau and Suffolk County, including Syosset, Woodbury, Old Bethpage, Plainview, Jericho, Oyster Bay, Muttontown, Brookville, East Norwich, Hicksville, Farmingdale, Melville, Glen Head, Cold Spring Harbor, Laurel Hollow and many others on Long Island.