Join us for an unforgettable enjoyable and uplifting musical Shabbat service.

Presented by the Charles J. Barnett Friday Night Music Fund

Our artists-in-residence all hail from the same family and work together to create an experience that is truly magical. Merri Lovinger Arian, Rabbi Ramie Arian and their daughter, Elana Arian – all musical, all amazingly talented, and all camp-born and bred, will lead us in a Shabbat experience second to none.

We're excited to welcome Cantor Mariel Guarrera-Ashkenazy as North Shore Synagogue's new cantor starting on July 1st!

Help us welcome Cantor Ashkenazy throughout the summer at Erev Shabbat services starting on Friday, July 5th.  We'll have a special welcome for her at our Brotherhood BBQ and Shabbat service on July 12th.

Cantor Mariel Guarrera-Ashkenazy was born and raised on the north shore of Long Island. She attended Skidmore College, where she studied Religion and Theater. After graduation, she worked with children with special needs and taught religious school at Congregation Tifereth Israel in Glen Cove.

She earned her Masters of Religious Education from HUC-JIR NY in 2015 and continued on in their cantorial program. She earned her Masters of Sacred Music in 2018 and was ordained in 2019. As a student, she served as Cantorial Intern at Temple Beth Am Shalom in Lakewood, NJ and at Temple Judea of Manhasset on Long Island.

She discovered her love of Jewish music as a child, singing in her synagogue's junior choir. She especially loves working with young children and in the summer of 2018 joined the second cohort of Sing Shalom teachers, a partnership of Music Together and the Jewish Education Project.

In her off time she enjoys spending time with her family and crafting.

Tzedakah of the Month – The July/August Tzedakah of the Month is Sunrise Day Camp-Long Island. Sunrise Day Camp-Long Island is the world's first full summer day camp for children with cancer and their siblings, provided completely free of charge. And because Sunrise is a day camp, it does all this while allowing the children to continue their medical treatment and enjoy the comfort and safety of their own homes at night. Sunrise Day Camp-Long Island is a proud member of the Sunrise Association, whose mission is to bring back the joys of childhood to children with cancer and their siblings world-wide, through the creation of Sunrise Day Camps, Year-Round Programs and In-Hospital Recreational Activities, all offered free of charge.

Please give generously! Tzedakah Boxes are located in the Synagogue Lobby and outside the Youth Lounge.

Ongoing Mitzvahs

Food Collection – Help fight hunger and poverty locally by dropping off your boxed or canned good donations with a current "best by" date to the bin in the Religious School Hallway.
Get Well Mugs –  Make someone smile…"Get Well Mugs" filled with a coupon for "Jewish Penicillin" (chicken soup) from Ben's Deli. Just call the office to have one shipped to a friend or family member who is under the weather. ($20)

Volunteers needed to deliver Shiva Baskets to those sitting shiva

Volunteers needed to lead Shiva Minyans

Please call the main office at 516-921-2282 to sign up to volunteer.
North Shore Synagogue Welcomes You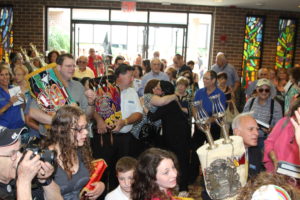 North Shore Synagogue is a vibrant Reform congregation of nearly 700 families offering a diversity of spiritual, educational, family, mitzvah and social opportunities for its members and the community.
The mission of North Shore Synagogue is to join with our members in building a community where the practice of Reform Judaism enriches and uplifts our lives with understanding, warmth, friendship and meaning.  Read our complete Mission and Vision Statement here.
Though our members are drawn to our Synagogue for various reasons – spiritual, social, educational and charitable – we seek to forge a common bond of commitment to Jewish heritage, tradition and people even as we affirm the freedom to express these shared values in creative and individualistic ways.
Our hope is that you and your family will find a Jewish home at North Shore, where you can develop the tools of Jewish living, the comfort of a community and a sense of connection that will last a lifetime and for generations to come. We feel strongly that membership in a synagogue, whether North Shore or another synagogue, creates a bond that you'll only find in a congregational community.
We serve communities across Nassau and Suffolk County, including Syosset, Woodbury, Old Bethpage, Plainview, Jericho, Oyster Bay, Muttontown, Brookville, East Norwich, Hicksville, Farmingdale, Melville, Glen Head, Cold Spring Harbor, Laurel Hollow and many others on Long Island.