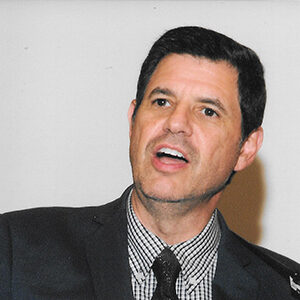 Cantor Steven Hevenstone was born and raised in North Bridgeport, CT.  He attended Sacred Heart University in Fairfield, CT, studying English and Theater, where he met his wife, Kathy. Together they have two wonderful sons, Nathan and Aaron who are living in Atlanta. He began his cantorial career at Temple Shir Shalom (TSS), a small Reform Temple in Duluth, GA as Soloist and Education Director. While working at TSS, he received his master's degree in education, Curriculum Design, from American Intercontinental University. He also began his official Cantorial training with the Cantorial Interns of the Cantors Assembly (CICA).
After working for TSS for 4 years, "Cantor Steve" was hired by Greenfield Hebrew Academy (now called Atlanta Jewish Academy) in Atlanta, GA. There he ran the music department of a 900-plus student Jewish day school. He went on to become the Hazzan Sheni ("second cantor") at B'nai Torah Congregation in Boca Raton, FL where he served under Cantor Udi Spielman and Rabbi David Steinhardt. At B'nai Torah he finished his cantorial investiture. From B'nai Torah Cantor Hevenstone went on to become the main cantor at Dix Hills Jewish Center in Dix Hills, NY before joining North Shore Synagogue in July 2023.
An active composer and arranger, Cantor Hevenstone interprets Jewish music with a modern, enthusiastic flare. He began composing choral arrangements for his elementary school and middle school choirs. Once in high school he began conducting the choir and small instrumental ensembles. Many of his musical pieces for services and holidays can be heard in synagogues throughout the United States, Europe including Spain, and Israel. Cantor Hevenstone is a board member for the Guild of Temple Musicians.
Cantor Hevenstone enjoys writing scripts as well as music and has participated in writing and directing musical Purim shpiels, plays, and educational programs. He has served on the Executive Committee of the Cantors Assembly and is an active member of the Federation of Jewish Men's Clubs (FJMC). He has attended Song Leader Boot Camp under Rick Recht and enjoys working with and collaborating with colleagues involved with Jewish music.
Cantor Hevenstone has always been active in synagogue life. He is eternally grateful for the mentorship he received in his early years from his cantor, Hazzan Y'Shaya Grama z"l of Rodeph Shalom Synagogue in Bridgeport, CT.  It was this friendship that put him on the path to becoming the cantor he is today. He tries to pay it forward by mentoring young people and young cantors who are on their own journey in the Cantorate.
Cantor Steve, his wife Kathy and their sons Aaron and Nathan are looking forward to
getting to know the North Shore Synagogue and being a part of this wonderful musically inspiring community.