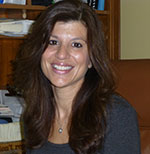 Jacquie Sanchez joined North Shore Synagogue as our Nursery School Director for the unusual 2020 – 2021 school year.
Jacquie holds a B.S. from C.W. Post College in Early Childhood Education as well as a Master of Science in Education from Queens College. She is certified in Nursery, Kindergarten and grades 1-6.  As Educational Director for over 20 years in Early Childhood education in Syosset, Jacquie developed a reputation as a dedicated, caring, and energetic leader. 
North Shore Synagogue is fortunate to have Jacquie's professional expertise and warm presence guiding our youngest children and their families.