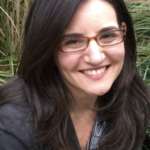 M y favorite biblical book, the Song of Songs, states, "Arise my love, my fair one, and come away. For now the winter is past, and the rains are over and gone. The blossoms have appeared in the land, the time of pruning has come."
At first glance, this love poem speaks of a beautiful time of flowers and fragrances, of sunshine, warmth, and love. But, as Rabbi Ben Bag Bag taught, "turn it, turn it, and turn it again, for the whole world is in it." Our Jewish texts must be read time and time again, with a deeper more exhausting reading, each time. Just below the surface of this exquisite verse is a message about change. Most of us yearn for the time when "winter is past and the rains are over and gone." No longer do we hide away in our houses covered in woolen blankets. No longer do we curse the morning chill as we scrape ice and snow off of our cars. Now, when winter is past, we take our bicycles out of our garages instead of our cars. We may open our windows a little more often. We welcome this change. But Song of Songs goes on to say, the blossoms have appeared in our land, the time of pruning has come.
To prune is to clip, cut, snip, trim, shorten, to condense. It is to change our shape in some way. When we come out of the winter hibernation, and we look through our closets in search of bathing suits, shorts, and beach towels, we sometimes find ourselves waxing nostalgic at the remnants we find that we had forgotten. Sometimes, we take them out of storage to find that they no longer fit, or have simply worn too thin. It is time to prune these items from our lives. Sometimes the rummaging through old things is not physical. It is emotional. Perhaps we have changed over the course of the winter months. Perhaps our circumstances have been altered. We too, like the blossoming trees spoken of in Song of Songs, need some pruning. It is time to change something about ourselves.
Change is hard. There is simply no getting around that. And yet, change happens everyday. As the Greek Philosopher Heraclites said, "The only constant is change." Well, at least that's one thing we can depend on. The important thing to understand is that all our lives stand on not what changes take place in our lives, but rather how we handle those changes. Every change has the potential to bring us blessing or curse. The choice is ours. We can fight the change with all our might or we can move with it, allowing ourselves to bend and sway with the changing winds. An African proverb states, "The wind does not break a tree that bends."
Sometimes we find it hard to bend and move with all the changes around us. But once again, it is all in how we look at it. Perhaps it is a responsibility to be flexible. Perhaps it is an obligation. Or perhaps it is a blessing.
A little known folk song teaches, "A loving God and things in their own time: In nothing more do I trust. We own nothing, nothing is ours…But this poverty is our greatest gift. The weightlessness of us as things around begin to shift."
When the world is changing too fast for us to comprehend, we have a choice. We can fight against the winds of change, or we can open up our sails and see where the breeze takes us. This second approach requires trust. Trust that if we sway and bend, at some point the vines will blossom and the pruning will make for a healthier tree. The constant change will continue, but with faith and trust in God and in our fellow human beings, we can survive with minimal struggle and arrive to the next line in Song of Songs, "The green figs form on the tree; the vines in blossom give forth their fragrance. Arise my love. My fair one, come away." When we let go and allow ourselves to revel in the changes and evolutions around us, those trees we pruned will give forth beautiful flowers we can enjoy.
We here at North Shore Synagogue are undergoing our own change as we bid a fond farewell to Rabbi Rachel Maimin and Cantor Kyle Cotler. While we have learned so much from them and truly treasured the time they have spent with us, it is time for them to move on with the next steps of their lives and careers. We know that their vines will blossom and we wish them both the very best that life has to offer. They will always be family.