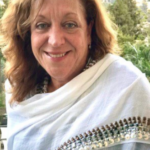 I never expected to be stepping into the role of President at North Shore Synagogue. I think of all those who walked this path before me, each one with their own dreams and plans for the future. And now, as I enter this role after one of the most unprecedented years of physical and emotional struggles, I bring my own dreams and plans to continue the legacy of North Shore Synagogue as the congregation looks for support and meaning in their membership. At this time, I do not have the answers. What I do have, is hope.
"Optimism is the belief that things are going to get better," writes Lord Rabbi Jonathan Sacks z"l. "Hope is the belief that we can make things better. Optimism is a passive virtue; hope is an active one. It takes no courage to be an optimist, but it does need courage to hope."
I hope we can all be active in our vision for North Shore Synagogue.
"Hope is the ability to combine aspiration with patience; to be undeterred by setbacks and delays; to have a sense of the time it takes to effect change in the human heart; never to forget the destination even in the midst of exile and disaster."- Lord Rabbi Jonathan Sacks z"l
I hope we can all be patient with one another. To reach out and ask for what we want in order to get what we need.
During this past year, we have welcomed new children and grandchildren and have lost many – some too young and some with fully lived lives. None without sorrow and many with additional challenges of going through life cycle events during a pandemic. This year has reminded us of the importance of being a part of a community during tough times. I participated in Zoom shivas that helped the bereaved feel connected to community members who also joined. We met relatives and friends near and far and made an impact with loving conversations about those we've lost. We laughed together at comedy and mind-blowing magic and mentalism nights and learned a lot about wine and cheese and cooking for Jewish holidays. We continue to have the opportunity to work together to impact what comes next. I am grateful for the efforts of everyone involved with keeping our synagogue operational during this past year. The office staff, the maintenance staff, Nursery school staff, Hebrew School staff, B'nei Mitzvah training staff, and the Board of Trustees and many of our committees worked at providing a strong connection and very much needed support to our community.
As the President, I will try to do everything to ensure that each member feels valued and connected to North Shore Synagogue. Our Rabbi, Cantor, Executive Director, Board of Trustees, and I are committed to supporting the congregation and our community — through tried-and-true programs, as well as new initiatives. These initiatives may include outreach, congregational engagement, new lifelong learning programs and innovative ways to re-engage our youth. I am optimistic that through these efforts, we will continue to grow our congregation and support the members who have shared their lives at North Shore Synagogue. I want to hear your needs, suggestions, and ideas for our congregation. I am asking anyone who wants to participate in any Board committees or synagogue activities to contact the office or myself, and we will work diligently to make it happen. The best way to reach me is by email president@northshoresynagogue.org.
July 20th will be our inaugural Golf and Cocktail Party Fundraiser at Muttontown Country Club. I hope to see many of you for fun, reconnecting and a live auction with raffle prizes, etc. Golfers and non-golfers are welcome! Bring your family and friends!
Thank you to our outgoing President, Larry Henin; our Rabbi, Jaimee Shalhevet; our Cantor, Mariel Ashkenazy; our Executive Director, Jacquelynn Golub and everyone on the Board and in our building for getting us through this most challenging year.
Signing off, as I always will, wishing you well, with the Yiddish phrase my grandparents instilled in me: "Zei Gezunt" (Be Well).
Beth Bucheister
President