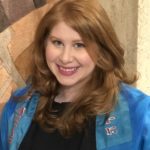 As I sit down to write this bulletin article, a Target bag stashed with some goodies I bought before COVID-19 hit catches my eye. Among the treasures in the bag are rainbow-themed playroom decorations I bought in anticipation of transitioning over my home office into a play space for my son. Needless to say, that plan has long been postponed as I've been working from home and even had to dedicate a section of the room to recording videos and services. But the decorations call to me, as do the rainbows I see lining the windows of homes on my street in honor of healthcare workers.
As we learn in school as young children, it is only after rain that we are able to see rainbows. When we see illustrations of Noah's Ark after the flood, we usually see the dove carrying an olive branch with a rainbow in the background. Their colorful beauty spreads across a sky once dark and stormy. They remind us that even the darkest of times don't last forever.
Just like rainbows, the blooming of the flowers and the increasing presence of the sun have a way of just making me feel better and spreading joy and hope. I imagine for most of us, these past few months have been a challenge as we got used to stay-at-home orders and readjusting to going out in public when necessary with masks and gloves. As the weather gets nicer, and news of phases fill our ears, we start to feel that maybe things will start to go back to normal again. We also fear what is still unknown about our future and second or even third waves.
Every year, the month of June is Pride month, and once again we see imagery of rainbows everywhere. Here, the rainbows take on even more meaning. They teach us that even though we may be different, we can live together in harmony and create even more beauty joining together than we can as one color standing on our own.
In the midst of everything else going on, we were also reminded of our culture's biases and all of the negative things and tragedies that have happened as a consequence.
While the presence of the rainbow flag was abundant last month in June, I believe the message of the rainbow applies even more so now. No matter our color or creed, we are stronger together.
In the middle of a storm, I urge you to look for and appreciate the rainbows in life, both literally and figuratively.
My blessings and well wishes to you all.