WE'RE GOING TO ISRAEL!
Join us on February 15 – February 26, 2017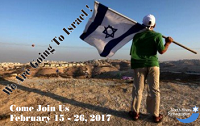 A Note from Rabbi Shalhevet
Jerusalem, city of peace. Ir Shalem, Yerushalayim. The name itself means "city of peace." And there's something about being there physically that brings the metaphor to life. When a Jew stands at the Western Wall, he or she hears floating above them the prayers chanted in Arabic from the Dome of the Rock; and from behind, the Latin prayers from the Church of the Holy Sepulchre. History comes together in beautiful harmony. Jerusalem is truly a city of wholeness, where so many things began and still continue today. Tel Aviv, Israel's New York City, is known as "The Big Orange", Dizengoff street has such amazing shopping that there is a Hebrew verb just meaning "to shop on Dizengoff Street." Eat your heart out 5th Avenue! Haifa, a city with a mountain overlooking the Mediterranean sea. Home to Jews, the second largest religious site of the Ba'hai, and the only group of Reform Muslims, known as the Achmadiyya Muslims – all living in peace and harmony together. Israel is so much more than you think.
Have you ever thought about visiting Israel, having your B'nai Mitzvah in Israel or just visiting the land we believe in and support? Join our North Shore Synagogue family on this exciting journey, a family vacation to Israel next year. We'll be travelling to Eretz ha'Kodesh, the Holy Land. The dates are February 15-26 2017, and I hope you'll be joining me for the journey. We'll float in the Dead Sea, walk on the same ancient roads our biblical ancestors did, and celebrate Shabbat in Jerusalem. Whether it will be your first time in the Holy Land or you've already inserted a prayer or two into the Western Wall yourself, this trip is for everyone. Stay tuned for our informational meeting coming soon. This is a great opportunity to meet and make new friends and to create life long bonds with our community.
I can't wait to travel with my North Shore Family to our Homeland and share my love of Israel with all of you. Please don't hesitate to contact me with any questions. Now get packing!
All my best,
Rabbi Shalhevet
North Shore Synagogue is partnering with Temple Beth Emeth on the Trip of a Lifetime!
Israel Trip Details: February 15-26, 2017 led by Rabbi Jaimee Shalhevet and Rabbi Helayne Shalhevet.
Cost: from $2,765 (land only)
View the complete itinerary and highlights from ArzaWorld, our trip guides, here!
You can call ArzaWorld with questions at 1-888-811-2812.
Trip includes:
10 nights' accommodation at selected hotels

8 days of touring in a luxury, air-conditioned bus with licensed English speaking tour educator plus walking tour on Saturday, February 25, 2017

1 group transfer and assistance to and from the airport

All site entrance fees and program fees as per itinerary

Meals: daily breakfast, 1 lunch and 6 dinners

Portage at the airport and hotels