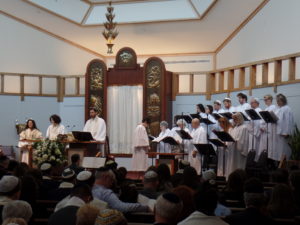 North Shore Synagogue offers beautiful, moving High Holy Day services led by our rabbi and cantor with inspiring music from our incredible choir. High Holy Day services at North Shore Synagogue provide a spiritual journey that transforms us on both a communal and individual level.
Attending Services
Special Note for High Holy Days 2022
We were pleased to be one of the only Reform congregations to offer safe, in-person High Holy Day services in 2020 in addition to virtual services.
We hope that you will attend services in person in 2022 but we will be streaming all services for those who are unable to attend or uncomfortable attending.
Other services will be available to the entire community both in-person and virtually, including family and tot services on both Rosh Hashanah and Yom Kippur; Yizkor, Afternoon and Neilah services on Yom Kippur; and Second Day Rosh Hashanah services.
Get the form for tickets for non-members here>>
Second Day Rosh Hashanah services will be held outdoors in Theodore Roosevelt Park in Oyster Bay. We invite the entire community to join us – no tickets are required!
Tickets are required for Erev Rosh Hashanah, Rosh Hashanah morning services, Erev Yom Kippur (Kol Nidre) and Yom Kippur morning services.  Please note that for these services that require tickets, you will need tickets to attend virtually.
The cost of High Holy Day tickets may be applied to the cost of membership if you join by December of the same year and the full year's dues are paid for that membership. We offer special incentives for new members, seniors and young families.


About the High Holiday Days
North Shore Synagogue offers a special S'lichot program before the holidays to prepare by praying and studying together. We start with Rosh Hashanah, the Jewish New Year, a time of prayer, self-reflection and repentance. One of our popular events follows second day Rosh Hashanah services when we perform tashlich, the casting off of sins, in Theodore Roosevelt Memorial Park.  The holiday culminates with our beautiful Kol Nidre service and Yom Kippur, the Day of Atonement, with morning, afternoon, Yizkor and concluding services.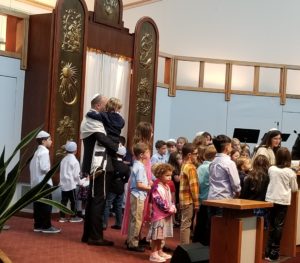 We also offer engaging, age-appropriate Family and Tot Shabbat services on Rosh Hashanah and Yom Kippur afternoons.
Questions? Please call the office at 516-921-2282 during normal business hours.
Please join us!  Note that only Erev Rosh Hashanah, Rosh Hashanah First Day, Erev Yom Kippur (Kol Nidre) and Yom Kippur Day services require tickets.