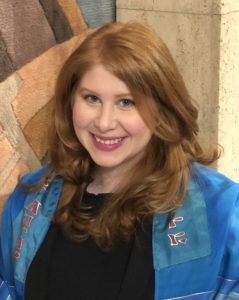 Cantor Mariel Guarrera-Ashkenazy was born and raised on the north shore of Long Island. She attended Skidmore College, where she studied Religion and Theater. After graduation, she worked with children with special needs and taught religious school at Congregation Tifereth Israel in Glen Cove.
She earned her Masters of Religious Education from HUC-JIR NY in 2015 and continued on in their Cantorial program. She earned her Masters of Sacred Music in 2018 and was ordained in 2019.
As a student, Cantor Ashkenazy served as Cantorial Intern at Temple Beth Am Shalom in Lakewood, NJ and at Temple Judea of Manhasset on Long Island. She discovered her love of Jewish music as a child, singing in her synagogue's junior choir. She especially loves working with young children and in the summer of 2018 joined the second cohort of Sing Shalom teachers, a partnership of Music Together and the Jewish Education Project.
In her off time, Cantor Ashkenazy enjoys hiking, crafting and spending time with her husband Rubens and children Noam and Eitan.