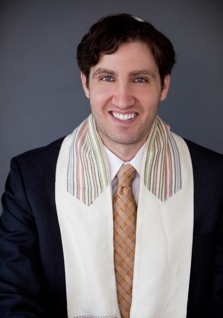 Cantor Kyle Cotler comes from an unbroken line of liturgical singers. His great-grandfather was a chazzan in Russia. His grandfather, Cantor Ted Cotler, served for many years at Temple Beth Torah in Ventura, CA, and his father, Doug, is currently Cantor at Temple Or Ami in Calabasas, CA. Growing up with an expansive exposure to Jewish music, Cantor Kyle studied at the Academy for Jewish Religion in Los Angeles. He is a fourth-generation cantor and first-generation rabbi.
A love for music came early for Cantor Cotler. Melody and rhythm were in the air, at the table, and in his thoughts. His childhood bedroom was next to his father's practice room, and he remembers falling asleep to the sound of his father writing and singing liturgical songs and prayers. By the end of high school, Cantor Cotler was a proficient drummer, guitarist, and pianist. He received his B.A. in music theory and composition from Whitman College in Walla Walla, WA. He sang baritone/tenor in the college choir and was the principal composer and conductor for Whitman's Knights of Classic Lore vocal ensemble. Cantor Cotler began composing on guitar and piano, but he has since embraced the digital age and now includes his computer as a creative tool.
The Union for Reform Judaism (URJ) camps were where Cantor Cotler began to perform and compose Reform Jewish music. Having attended California's Camp Swig and Camp Newman as a child and teenager, by the end of college, he served as the head song leader at Camp Hess Kramer and then Camp Kalsman. He has also composed a number of original Hebrew songs and prayers and introduced his music to most of America's Reform congregations when he performed at the Center for Advancement of Jewish Education (CAJE) convention in Vermont in 2008 and as a featured performer at the URJ Biennial in 2009. From 2010 to 2012 he served as the Cantorial Soloist at Temple Beth Ohr in La Mirada, CA. From 2012 to 2016 Cantor Cotler was the cantorial intern and rabbinic intern at Stephen Wise Temple in Bel Air, CA before joining North Shore Synagogue in July 2016.
Cantor Cotler is thrilled to embrace his lech l'cha moment as a transplant to New York. He brings a passion for Judaism, a love of all things musical, and a zest for creating meaningful connections with people. His primary goal and sincere hope is that he will enrich the lives of all those in the North Shore Synagogue community and bring an innovative, infectious energy to all forms of worship in which he is involved. Although Cantor Cotler grew up a lifelong Dodgers and Lakers fan, he has reconsidered his allegiance. He now supports New York teams that rhyme. Go Nets, Jets, and Mets!