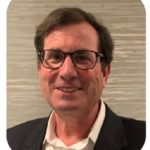 I want to thank you for opening this issue of the "Shalom" and starting to read my article as the new President of North Shore Synagogue. Did I just say "new President?" I'll get back to that in just a moment.
My wife Sherry and I have been members of the Synagogue for thirty years. Our two daughters, Jaime (married to Anthony) and Carlie (married to Marc), attended Nursery School here; attended Religious School here; had their Bat Mitzvahs here; and attended Hebrew High School here as well. To continue this tradition, our grandson Tyler currently attends Religious School here and will become a Bar Mitzah in our Sanctuary this May on the same Bimah as his mother Jaime did twenty-five years ago.
Like many of you, in addition to work, raising two children kept me and my wife plenty busy and it continues now with our three grandchildren, Tyler, Emily and Noa. During many of those years my wife was active on the Board of Trustees serving as a Vice President for several years. When she stepped down it became my time to serve our synagogue. After being on the Board of Trustees for eighteen years, as well as Brotherhood President, it finally became the "right" time for me to accept the position of President of North Shore but more importantly, I am fully cognizant of all the good things we do for our membership and our untiring efforts to make things even better. I welcome feedback from all of our members, whether complimentary or constructive, positive or negative, because that's the only way we can know if we are moving in the right direction and fulfilling your needs.
The "Shalom" and our weekly "Happenings" are a great way to learn about what's going on at our Synagogue. Although during the summer months things are more quiet than the rest of the year, there is still a lot going on here. The major summer event takes place at the Brotherhood Barbeque on Friday, July 12, starting at 6:15 pm – rain or shine. Not only will Brotherhood be providing free burgers, veggie burgers, hot dogs, and more, you will also have an opportunity to meet and welcome our new Cantor, Mariel Ashkenazy, and her husband Rubens, and their seven month old son Noam, as well as our new Youth Director, Joanna ("Joey") Falk. You'll also be able to hear our new Cantor at the Brotherhood-led service, immediately following the barbecue at approximately 7:30 pm. A special Oneg with ice cream and other treats will follow. Our clergy, staff and Board of Trustees look forward to greeting you at this important event with free food and drink – you can't go wrong with that!
Finally, I want to thank Scott Fisher, my immediate predecessor, who served the Synagogue well during his two years as President. We also said goodbye last month to Rabbi Maimin and Cantor Cotler as they moved on to new positions elsewhere.
I hope everyone has a safe and very enjoyable summer.
Larry Henin