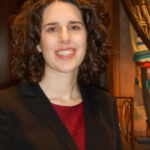 The other morning, I woke up, went about my daily routine, finally got out the front door, took the elevator down to the garage and got in my car. It wasn't until I was pulling out onto the crowded street that I even realized something was missing. My FitBit, which I have worn on my wrist every single day for the last several years, was not there that morning. My FitBit, which counts the number of steps I take in a day, how many flights of stairs I've walked up, and counts my active minutes – I had left sitting on my kitchen counter. I felt a sense of panic well up in my chest as I realized that I was missing something, not only from my wrist, but that I was missing something so integral to my everyday life. And then, as I was driving, I began to wonder what I was really so concerned about. After all, I would still take those steps; those flights of stairs wouldn't suddenly disappear because I didn't have my FitBit on my wrist. And I realized that my FitBit is actually about so much more than simply counting the number of steps I take in a day.
My FitBit is about feeling connected – connected to my family and friends who are a part of this FitBit club, whom I support in their successes and their challenges in their everyday FitBit lives. My FitBit is also about connecting me to my body, to being more active, to choosing to take the stairs instead of an escalator, or to park my car in the far reaches of a parking lot. And my FitBit also serves as a physical reminder. A physical reminder to put away the to-do list, to take a break from the busyness of everyday life, and to take a walk. To take a walk to clear my head, to let myself just be, to exercise my body, and my mind, and my soul.
As we enter this new secular year, filled with New Year's resolutions, we might ask ourselves: What is my reminder to take a pause, to take the time to take care of myself, my body, my soul? Maybe it's lighting the Shabbat candles at the end of a long week, taking a deep, extended breath as you welcome in Shabbat. Perhaps it's the mezuzah that hangs on your doorpost, reminding you who you are coming home to, and also connecting you to our community, our faith, our God. Perhaps your reminder is the Sunday paper or your yoga mat or your running shoes or your piano. It doesn't matter what that reminder is. The only thing that matters is that we look for it, that we find what matters to us. May we all be so blessed as to discover our reminder, to remember to use it, to infuse our daily lives with a little bit more intention, and not to panic when we inevitably forget it.